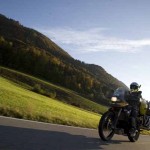 0810'08 Austria (Close to Zell am See)
So we had our first day of driving together and all I can say is what a perfect start.
After making a quick stop at post-office this morning to send some personal stuff home we managed to finally leave dear old München. Not without a proper farewell by all the wonderful guys and girls from Massmann Wohnheim. (Where I've been living every European summer for the last 5 years) Although I was obviously very excited and happy to start our trip I couldn't help myself from feeling a little sad to leave it all behind again. Such wonderful friends. Such great times. What a lovely city. A piece of myself is staying behind in München.
The rest off the day was a beautiful ride with sunshine and lanscapes covered with mostly green and yellow and red. Autumn is in its full at the moment. So pretty. German countryside. And then Austria where we found a beautiful spot to camp. (We'll be in trouble tom morning if the farmer gets here before we're gone.) Driving up this slope we've damaged quite a bit off grass. I also had my first fall on my first day already. Too much sliding on the slippery wet grass and just couldn't keep the bike up anymore. I think this will be happening quite alot in the next 4 months. At least nothing got damaged. (except the grass of course) Now I'm enjoying the warmth and comfy-ness of my tent after a wonderful spaghetti bolonaise, made in camping-style on the petrol-cooker. Want to get up very early tomorrow morning to avoid this farmer, so thats it for now. Good night.